Hello all you lovelies!
So this week was a little bombarded with my vacation recap, so I thought I would toss another post in the mix for good measure!
I love doing things like these to hold me accountable. I am a list maker. I am a planner. I will literally write things down on my to-do list after I've already done them just so I can check them off my list! I am one of those people...So when I saw that the oh-so-sweet Holly was hosting a link up with the word "list" in the title, I knew I needed to link up!
Without further ado, my Summer Bucket List: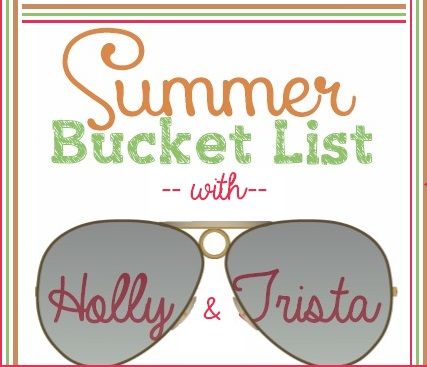 1.) Head to the zoo at least every other week with Madden. Omaha's Henry Doorley Zoo was ranked as the #2 zoo in the United States just a couple weeks ago. The fact that it is literally 20 minutes from my doorstep to this zoo and we've only taken him twice since being back is quite sad. So I am making it a priority this year to get there at least every two weeks!
2.) Take a mini "honeymoon" to somewhere for a long weekend to celebrate our five year wedding anniversary on June 21st. It's so crazy to think that we've been married that long, and I feel like we deserve to celebrate that "marriage landmark!" I'm thinking someplace warm where we can just lounge by the pool or the water, drinks in hand, and not do a darn thing...
3.) Spend 3-4 days a week at our gym's pool with Madden. I mean heck, we're paying about $80 per person per month to be members there, so we should probably take full advantage of the slides, kiddie pools and water falls, right??
4.) Take a long weekend trip as a family to start a tradition every summer. Even if it is just to Kansas City or someplace close, I just want to start making memories that become traditions every year with Madden. Some of my fondest childhood memories were ones where my family would go to a lake about an hour from our house and camp out for two nights...nothing fancy, but we looked forward to that every year and I want to do that with my own family!
5.) Have a weekly "girl's night out" where I do dinner and drinks with my girlfriends. We have to be able to sit outside so we can enjoy the warm summer nights and our child free time...
6.) Learn how to water ski. This is a biggie for me for a few reasons: 1. I can't swim worth a darn. 2. I am very uncoordinated. and 3. There are no decent lakes in Nebraska that I would even consider learning how to in. But, I'm determined to try!
7.) Spend more nights with the hubs on our deck, after Madden has gone to bed, just talking, dreaming and of course drinking a glass (or two) of wine :)
8.) Make more trips to see my parents and family back in my hometown. Since both my Dad and Brother are farmers and both my Mom and Sister are teachers, they will all be home for the next few months, which makes it the perfect opportunity for M and I to sneak back there (it's only an hour and a half away) a few times this summer. Plus, ALL of my Aunts and Uncles and Grandparents and ALL of my in-laws live there too...so I'm sure we would "run" into a few of them as well! (with a population of a mere 28,000 people, it's bound to happen)
9.) Just be care free and love every minute I have with my sweet baby boy. I'm realizing every day just how quickly they grow up and I really just want to freeze time right now. In this very moment...
What are your "Bucket List" plans for the summer?
Until next time...