June is a month that is typically dedicated to weddings...everyone and their dog wants a summer wedding, and June just screams wedding month. As a little girl, I always knew I wanted to get married in June. My Mom and Dad got married in June. My Hubby's parents got married in June. My best friend got married in June. So when A popped the question in August of 2007, I knew I wasn't going to get married in any other month than, you guessed it: June.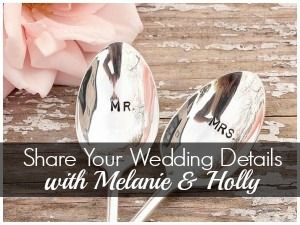 So, when
Holly
and
Melanie
announced the "Share Your Wedding Details" link-up, I knew I was joining in. I mean, it's perfect timing, giving that the Hubs and I are celebrating a pretty big milestone in our marriage tomorrow...five years. June 21, 2008 is the day I became a Mrs to my high school sweetheart. After 7 years of dating, (we were together through all of each other's awkward high school and teenage stages) we finally made it official and got married at the ripe
old
young age of 22.
We were so young...so little...look at how fit and trim A was!
Both of us came from the same small town, so it was no question as to where the festivities would be held: Columbus, NE. A town with a population of 20,000. A town where Wal-Mart is the local hang out. A town where everyone knows everyone and everyone's pet cat.
It was no debate that the ceremony would be held at the church I grew up in, was baptized and confirmed in and that my parents were still members in. It is a beautiful church. Simple, yet beautiful. But when it came time to decide where the reception would be held, that was where shit began to hit the fan. Because everyone in the town knows everyone, we knew we had to invite a large number of people. Like 850 people, large. That said, the only option to hold all of those hundreds of people was the local 4-H and FFA building on the fairgrounds of Platte County...Ag Park. Picture a giant machine shed, with cement floors, florescent lights and cow poop stained
white
cream colored unfinished dry wall...classy, right?? To top it all off, they herded our guests through a buffet line with styrofoam plates and plastic utensils like the cows that are usually in that building. It was our only choice.
Isn't she a beaut???
I always knew that I wanted to keep everything simple when it came to colors. I wanted that "vintage elegance" feel, with a pop of color. So the theme was black lace, with champagne colors and then bright colored roses. Oh roses. Believe me when I say that out of all the things I would change, that was one of the biggest. My poor parents paid out of their ass because I just HAD to have real roses. Over 1000 real roses. Waste.Of.Money. Sure, they were beautiful, but for what? One day that nobody else will remember. Never again...Never again.
Were they worth the $3,000?? Ummm...no.
When it came time to choose the gals that would be standing up with me, I always knew that I wanted primarily family. I had heard too many horror stories of old high school or grade school friends being bridesmaids and then after the wedding, never, ever seeing or hearing from them again...yet they are forever in all of your pictures. So I listened...with one exception: an old college friend that I just knew would never leave me. We were gonna be BFF's for LIFE. Ha! Joke was on me. Lesson learned. On the other hand, I had my little sister as my MOH, followed by my two cousins, and then my hubby's two sisters (which was basically a requirement in order to not be shunned at every holiday gathering!)
Yep. There "she" is. I can't even crop her out because she's the first one on my right side...she somehow squeezed in front of my little sister to stand right beside me...
I left our wedding song up to Aaron. I had done ALL of the planning from beginning to end, so I left one "minor" detail to him to take care of. I literally let go of the reigns on that one. It killed me to not have a hand in that decision...He even went so far as to not let me hear it until it played for the first time on our wedding night. But I gotta say, he did amazing. Our song was and always will be: "Faithfully" by Journey. A classic. Timeless. He did good ;)
We totally lucked out on our honeymoon. Like no joke. My hubby's Uncle offered to pay for our entire trip...no strings attached. A "little" wedding gift so to speak. The only glitch was that we had to go somewhere that his company would be taking corporate trips to. Fine. Whatever. I mean it was free, so we would take what we could get. We decided on Puerto Rico because neither of us had ever been there. And, I gotta say, I was impressed. It was all I ever want in a trip. Sun, water, drink in hand and pure relaxation. It was a week of heaven. The perfect ending before the beginning of our lives as a Mr. and Mrs.
So, Happy Anniversary babe. Five years has flown by. And although I would have changed a few things about the day we said "I do," I wouldn't change who I said that to, for anything. I love you!
Until next time...